Paladin Security 3D Wire Mesh Fence
Paladin Security Fence, Paladin 3D Fence, Paladin Mesh Fence
Paladin Security 3D Wire Mesh Fence is a original striped type welded mesh fence with innovative and unique aesthetic appearance. It has the features of high strength and security, anti-climbing, anti-cutting, and faster installation. Paladin Security 3D Wire Mesh Fence as a decorative mesh panel has extra vertical wires and a crimped panel design. With pressed 'V' forms containing additional 4mm diameter wires for the full panel width, paladin mesh fencing offers a rigidity anti-intruder barrier solution.

Specification of Paladin Security 3D Wire Mesh Fence:
Width of the panel: 2500mm or 3025mm.
Height of the panel: 900mm to 2400mm.
Spike to top edge: 30mm.
Mesh pattern: small 12.5 × 50mm and large 50 × 50mm, welded at each intersection. This mesh size ensures good visibility through the fence whilst the wire provides a high level of rigidity.
Horizontal wires: 3mm diameter at 50mm centres with additional 4mm diameter in the 'V' beams.
Vertical wires: 3mm diameter at 50mm and 12.5mm centres.
0.9m/1.2m/1.8m panels have 2 'V' forms, 2.0m/2.4m panels have 3 'V' forms.
Surface treatment: plastic coated with green color. Thickness of powder coated 80-100micron.
Fence post size 60 × 40mm, 60 × 60mm and 80 × 60mm with plastic cap or metal cap.
Clamps: plastic clamp or metal clamp.
Another type fence mesh opening 20mm × 200mm /43.7mm × 200mm, wire 4mm (verticals); 5mm (horizontals). Shown as the right picture below.
Paladin Mesh Fence system Specification
Fence Height
Panel Size
Beams
Inter clamps
Corners Clamps
900mm
925 × 3025mm
2
3
6
1200mm
1240 × 3025mm
2
4
8
1800mm
1850 × 3025mm
2
5
10
2000mm
2000 × 3025mm
3
6
12
2400mm
2440 × 3025mm
3
7
14
Post
60 × 60 × 2.00mm and 60 × 80 × 2.5mm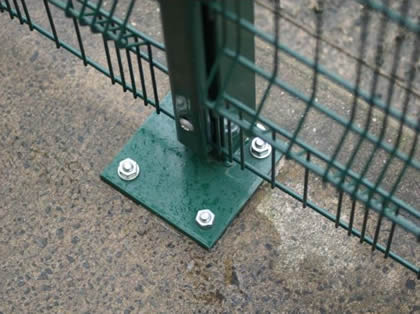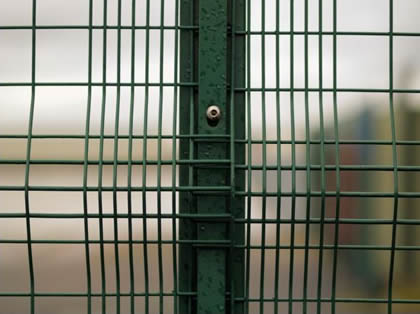 Application of Paladin Security 3D Wire Mesh Fence:
Paladin fencing panels recommended as security fencing for private estates, residential areas, housing, farms, gardens, industrial areas, sports facilities, parks, schools, playgrounds and sports field, airports, utilities, public building, sports arenas, marinas, warehouses, factories.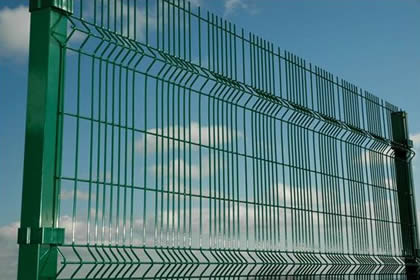 Anping Enzar Metal Products Co., Ltd. is a specialized manufacturer and exporter of metal and wire mesh products started from 2007. Our manufacturing activities can be tracked back to more then ten years ago.
The main products we are producing can be listed as follows.
-Welded Mesh Fence
-Welded Wire Mesh Sheet
-Welded Wire Mesh Roll
-Welded Steel Grating
-Woven Wire Mesh
-Steel Fabrications
Elenco prodotti : recinto > Pannello Curvy Fence